{"id":1098415898676,"title":"Skate Sharpening","handle":"skate-sharpening","description":"\u003cp\u003eAre You Tired of Inconsistent Sharpening? From People Who Don't Care?\u003c\/p\u003e\n\u003cp\u003eWould You Like to Try Our Skate Sharpening for Free?\u003c\/p\u003e\n\u003cp\u003eFor New Customers get your First Sharpening for Free to Try Us Out.\u003c\/p\u003e\n\u003cp\u003eWanna Try the FBV Sharpening? The First one is Free to try too. Come Experience a new kind of Glide and Bite.\u003c\/p\u003e\n\u003cp\u003eStop By Our Shop or Make an Appointment to Give Us a Try.  \u003c\/p\u003e","published_at":"2018-06-20T16:53:39-04:00","created_at":"2018-06-20T16:56:55-04:00","vendor":"Sport and Hound","type":"Service","tags":["service","Service + Repairs","Skate Sharpening","sport-and-hound","under-50"],"price":900,"price_min":900,"price_max":1200,"available":true,"price_varies":true,"compare_at_price":null,"compare_at_price_min":0,"compare_at_price_max":0,"compare_at_price_varies":false,"variants":[{"id":8854462693428,"title":"T = 1\"","option1":"T = 1\"","option2":null,"option3":null,"sku":"","requires_shipping":false,"taxable":false,"featured_image":null,"available":true,"name":"Skate Sharpening - T = 1\"","public_title":"T = 1\"","options":["T = 1\""],"price":900,"weight":0,"compare_at_price":null,"inventory_quantity":1,"inventory_management":null,"inventory_policy":"deny","barcode":"","quantity_rule":{"min":1,"max":null,"increment":1}},{"id":8863332171828,"title":"T = 3\/4\"","option1":"T = 3\/4\"","option2":null,"option3":null,"sku":"","requires_shipping":false,"taxable":false,"featured_image":null,"available":true,"name":"Skate Sharpening - T = 3\/4\"","public_title":"T = 3\/4\"","options":["T = 3\/4\""],"price":900,"weight":0,"compare_at_price":null,"inventory_quantity":0,"inventory_management":null,"inventory_policy":"deny","barcode":"","quantity_rule":{"min":1,"max":null,"increment":1}},{"id":8863332204596,"title":"T = 7\/8\"","option1":"T = 7\/8\"","option2":null,"option3":null,"sku":"","requires_shipping":false,"taxable":false,"featured_image":null,"available":true,"name":"Skate Sharpening - T = 7\/8\"","public_title":"T = 7\/8\"","options":["T = 7\/8\""],"price":900,"weight":0,"compare_at_price":null,"inventory_quantity":0,"inventory_management":null,"inventory_policy":"deny","barcode":"","quantity_rule":{"min":1,"max":null,"increment":1}},{"id":8863332237364,"title":"T = 5\/8\"","option1":"T = 5\/8\"","option2":null,"option3":null,"sku":"","requires_shipping":false,"taxable":false,"featured_image":null,"available":true,"name":"Skate Sharpening - T = 5\/8\"","public_title":"T = 5\/8\"","options":["T = 5\/8\""],"price":900,"weight":0,"compare_at_price":null,"inventory_quantity":0,"inventory_management":null,"inventory_policy":"deny","barcode":"","quantity_rule":{"min":1,"max":null,"increment":1}},{"id":8863332270132,"title":"T = 1\/2\"","option1":"T = 1\/2\"","option2":null,"option3":null,"sku":"","requires_shipping":false,"taxable":false,"featured_image":null,"available":true,"name":"Skate Sharpening - T = 1\/2\"","public_title":"T = 1\/2\"","options":["T = 1\/2\""],"price":900,"weight":0,"compare_at_price":null,"inventory_quantity":0,"inventory_management":null,"inventory_policy":"deny","barcode":"","quantity_rule":{"min":1,"max":null,"increment":1}},{"id":8863332302900,"title":"T = 7\/16\"","option1":"T = 7\/16\"","option2":null,"option3":null,"sku":"","requires_shipping":false,"taxable":false,"featured_image":null,"available":true,"name":"Skate Sharpening - T = 7\/16\"","public_title":"T = 7\/16\"","options":["T = 7\/16\""],"price":900,"weight":0,"compare_at_price":null,"inventory_quantity":0,"inventory_management":null,"inventory_policy":"deny","barcode":"","quantity_rule":{"min":1,"max":null,"increment":1}},{"id":8863332335668,"title":"T = 3\/8\"","option1":"T = 3\/8\"","option2":null,"option3":null,"sku":"","requires_shipping":false,"taxable":false,"featured_image":null,"available":true,"name":"Skate Sharpening - T = 3\/8\"","public_title":"T = 3\/8\"","options":["T = 3\/8\""],"price":900,"weight":0,"compare_at_price":null,"inventory_quantity":0,"inventory_management":null,"inventory_policy":"deny","barcode":"","quantity_rule":{"min":1,"max":null,"increment":1}},{"id":8863332368436,"title":"FBV = 90\/75","option1":"FBV = 90\/75","option2":null,"option3":null,"sku":"","requires_shipping":false,"taxable":false,"featured_image":null,"available":true,"name":"Skate Sharpening - FBV = 90\/75","public_title":"FBV = 90\/75","options":["FBV = 90\/75"],"price":1200,"weight":0,"compare_at_price":null,"inventory_quantity":0,"inventory_management":null,"inventory_policy":"deny","barcode":"","quantity_rule":{"min":1,"max":null,"increment":1}},{"id":8863332401204,"title":"FBV = 95\/1","option1":"FBV = 95\/1","option2":null,"option3":null,"sku":"","requires_shipping":false,"taxable":false,"featured_image":null,"available":true,"name":"Skate Sharpening - FBV = 95\/1","public_title":"FBV = 95\/1","options":["FBV = 95\/1"],"price":1200,"weight":0,"compare_at_price":null,"inventory_quantity":0,"inventory_management":null,"inventory_policy":"deny","barcode":"","quantity_rule":{"min":1,"max":null,"increment":1}},{"id":8863332466740,"title":"FBV = 100\/50","option1":"FBV = 100\/50","option2":null,"option3":null,"sku":"","requires_shipping":false,"taxable":false,"featured_image":null,"available":true,"name":"Skate Sharpening - FBV = 100\/50","public_title":"FBV = 100\/50","options":["FBV = 100\/50"],"price":1200,"weight":0,"compare_at_price":null,"inventory_quantity":0,"inventory_management":null,"inventory_policy":"deny","barcode":"","quantity_rule":{"min":1,"max":null,"increment":1}},{"id":8863332499508,"title":"FBV = 95\/75","option1":"FBV = 95\/75","option2":null,"option3":null,"sku":"","requires_shipping":false,"taxable":false,"featured_image":null,"available":true,"name":"Skate Sharpening - FBV = 95\/75","public_title":"FBV = 95\/75","options":["FBV = 95\/75"],"price":1200,"weight":0,"compare_at_price":null,"inventory_quantity":0,"inventory_management":null,"inventory_policy":"deny","barcode":"","quantity_rule":{"min":1,"max":null,"increment":1}},{"id":8863332532276,"title":"FBV = 100\/75","option1":"FBV = 100\/75","option2":null,"option3":null,"sku":"","requires_shipping":false,"taxable":false,"featured_image":null,"available":true,"name":"Skate Sharpening - FBV = 100\/75","public_title":"FBV = 100\/75","options":["FBV = 100\/75"],"price":1200,"weight":0,"compare_at_price":null,"inventory_quantity":0,"inventory_management":null,"inventory_policy":"deny","barcode":"","quantity_rule":{"min":1,"max":null,"increment":1}}],"images":["\/\/cdn.shopify.com\/s\/files\/1\/0561\/8829\/products\/We_Sharpen_on_the_Blackstone_Skate_Sharping_Machine_6a57ff38-3fb5-4573-84fe-cff6de669161.jpg?v=1529638126"],"featured_image":"\/\/cdn.shopify.com\/s\/files\/1\/0561\/8829\/products\/We_Sharpen_on_the_Blackstone_Skate_Sharping_Machine_6a57ff38-3fb5-4573-84fe-cff6de669161.jpg?v=1529638126","options":["Sharpening Type"],"media":[{"alt":null,"id":1204242186292,"position":1,"preview_image":{"aspect_ratio":1.274,"height":785,"width":1000,"src":"https:\/\/cdn.shopify.com\/s\/files\/1\/0561\/8829\/products\/We_Sharpen_on_the_Blackstone_Skate_Sharping_Machine_6a57ff38-3fb5-4573-84fe-cff6de669161.jpg?v=1529638126"},"aspect_ratio":1.274,"height":785,"media_type":"image","src":"https:\/\/cdn.shopify.com\/s\/files\/1\/0561\/8829\/products\/We_Sharpen_on_the_Blackstone_Skate_Sharping_Machine_6a57ff38-3fb5-4573-84fe-cff6de669161.jpg?v=1529638126","width":1000}],"content":"\u003cp\u003eAre You Tired of Inconsistent Sharpening? From People Who Don't Care?\u003c\/p\u003e\n\u003cp\u003eWould You Like to Try Our Skate Sharpening for Free?\u003c\/p\u003e\n\u003cp\u003eFor New Customers get your First Sharpening for Free to Try Us Out.\u003c\/p\u003e\n\u003cp\u003eWanna Try the FBV Sharpening? The First one is Free to try too. Come Experience a new kind of Glide and Bite.\u003c\/p\u003e\n\u003cp\u003eStop By Our Shop or Make an Appointment to Give Us a Try.  \u003c\/p\u003e"}
Skate Sharpening
We Sharpen your Skates on a Blackstone Skate Sharpening Machine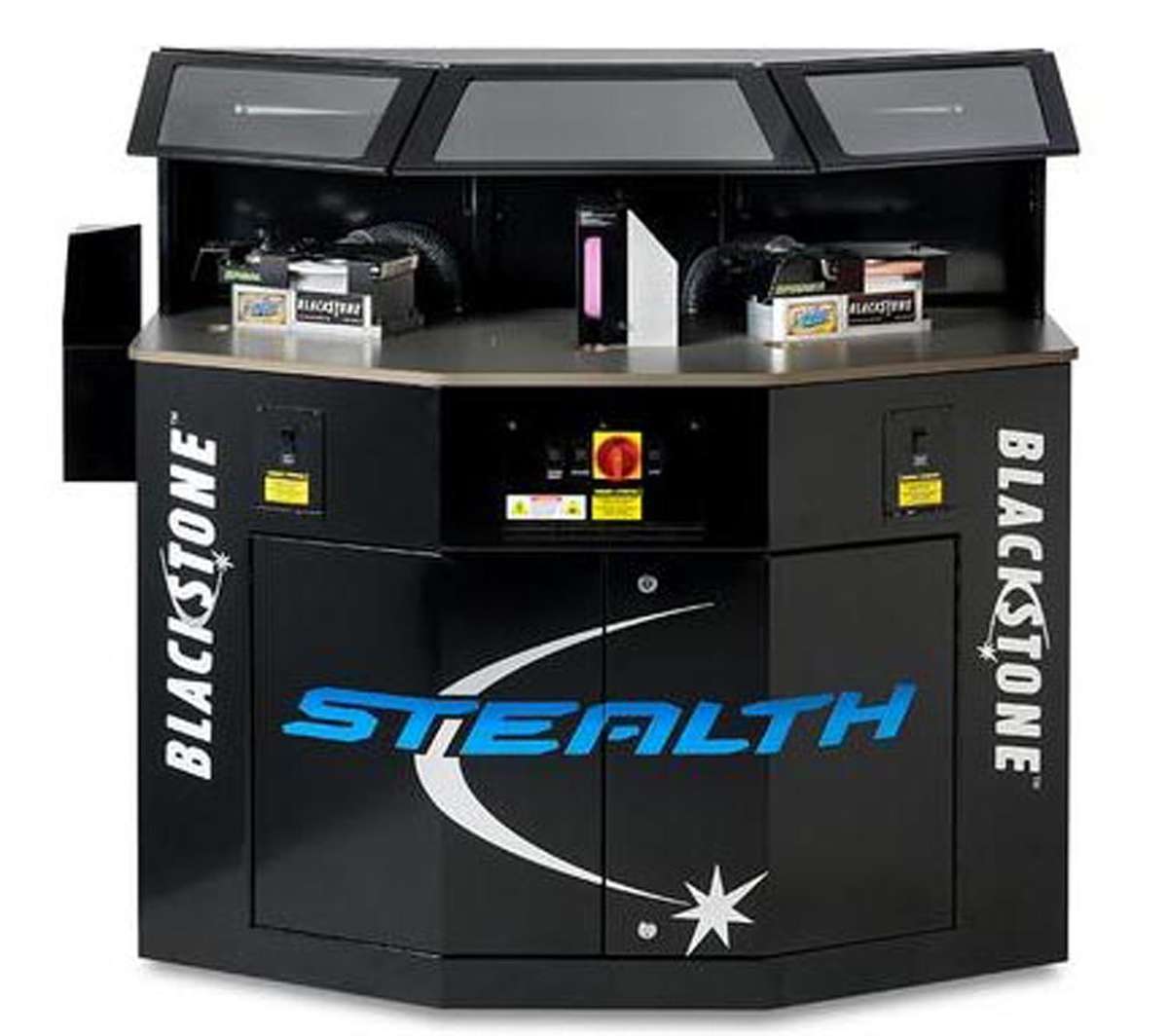 We Take Skate Sharpening Seriously

We Believe Everyone Deserves a Custom Sharpening

Come speak with our experts to figure out what the Best sharpening would match your skating style

We Offer Two Types of Sharpening
Traditional or FBV - Flat Bottom V
DIFFERENCE BETWEEN TRADITIONAL CUT AND FBV
TRADITIONAL SKATE SHARPENING

Traditional sharpening uses a grinding stone to create a groove or hollow between the edges of the blade.

The depth of this hollow determines the performance of the skate and is a matter of individual preference.

Simply put, the deeper the hollow, the more blade digs into the ice. This creates "bite" but the trade off is that it decreases the ease of your glide.

So you basically have to choose between gliding speed and grip.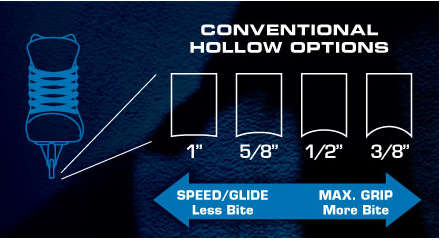 FLAT BOTTOM V® - FBV® - Technology

A New Era of Perfection gives you competitive advantages like you've never experienced before.

Superior endurance. Greater power. Enhanced agility. Better control.

These are just a few of the improvements skaters from recreational leagues to the pros are reporting with this new blade sharpening technique.



FBV™: The Best of Both Worlds
FBV™ eliminates the need to choose one benefit over the other, with a breakthrough architecture designed for the perfect blend of speed and agility.

The flat bottom shape of the blade allows the skate to glide across the top of the ice rather than cut through it. This reduces drag and helps increase speed.

At the same time, the precision edges are ready to dig in and provide precise control on turns and stops. The result is a revolutionary, no-compromise blade sharpening technique that allows you to skate faster with less effort and experience precise control on turns and stops, so you get maximum bite and maximum glide all the time.